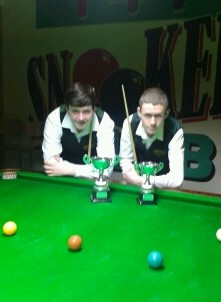 ON SUNDAY 13TH APRIL, THE 147 CLUB IN ANTRIM HOSTED THE NORTHERN IRELAND UNDER 21 CHAMPIONSHIP IN WHICH PETER BERRYMAN WAS IN FINE FORM WINNING THE TOURNAMENT WITHOUT DROPPING A FRAME. PETER HAD A TOUGH DRAW COMING UP AGAINST PREVIOUS TOURNAMENT WINNERS DECLAN DUFF AND EAMON FERRIS
AND AGAINST A RESURGENT RYAN HUGHES BUT PETER WAS JUST TOO GOOD ON THE DAY.
WELL DONE PETER!!!
A MENTION MUST GO TO YOUNG CONNOR MARRON AGE 10, LEWIS CLEWER AGE 10 AND ROBBIE MCGUIGAN AGE 9 WHO GAVE AN EARLY FRIGHT TO THE OLDER PLAYERS BY ALL WINNING THEIR OPENING FRAMES, THUS SHOWING THE BENEFIT TO YOUNGER PLAYERS WHO CAN IMPROVE THEIR TALENTS BY PLAYING AGAINST THE OLDER PLAYERS.
N.I JUNIOR SNOOKER IS IN GOOD HANDS WITH SO MANY VERY YOUNG PLAYERS SHOWING GREAT POTENTIAL AND NO DOUBT BECOMING FUTURE INTERNATIONAL PLAYERS.