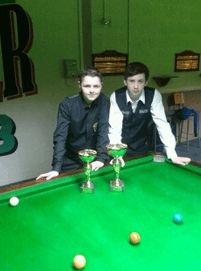 Sunday 6th April saw the latest N. Ireland junior tournament. It was the turn of the U16s at Antrim 147 club and with a decent turn of players it was the two top seeds Declan Duff and Eamon Ferris progressing through to the semi-finals along with Daniel Nixon and the much improved Connor Morgan. In the first semi-final Connor Morgan started off the better winning the first frame but top seed Declan stormed through the next 3 frames to win . The second semi was a tighter affair, when the match was 2 -1 to Eamon, Daniel had a black to make it 2-2 but eamon snatched it to win 3-1.
The best of 5 final saw Declan race into a 2 – 0 lead and it was looking like a one sided affair but Eamon battled back to make the match 2 -2. In the decider the match could have went either way but Declan came through to maintain his winning run in junior tournaments to lift the N. Ireland U16 title.
WELL DONE DECLAN !!!